Two possibilities for 2010!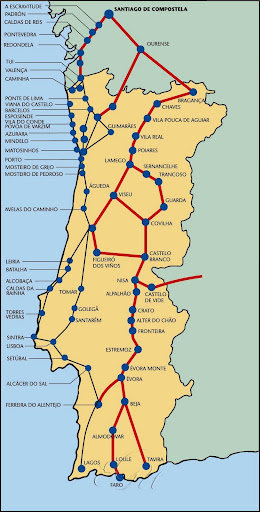 Alfredo has suggested a route in the Algarve that winds through many beautiful Portugese villages. This route is far from the crowded albergue, as it hasn't been used by pilgrims in quite some time. It's likely we might see beautiful countryside like these …
Tim has suggested that we do a section along the coast from Porto to Santiago. A superb idea indeed. Of course there are many advantages to doing the Pourtugese route during the year of Xacobe, we like our tight-knit community and are trying to avoid the crowds – possibly a thousand pilgrims per campground on the northern routes this summer. We will also try to arrive on a weekday because the millions of pilgrims traveling this summer will plan their schedules to arrive precisely on Saturday or Sunday.
This route is interesting because we have volunteers to scope out the trail and plan the week. Plus, our kitchen equipment and tents are being stored in Porto already.