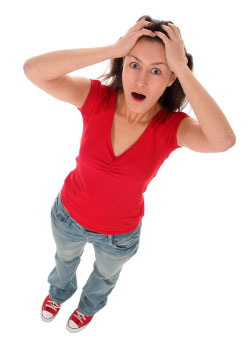 Top Ten Red Flags
How to avoid getting suckered!
#10 – If there are more pictures of the parks nearby and the rooftops than the actual hotel. – red flag
#9 – If there are more pictures of the reception hall than the rooms. – red flag
#8 – If they advertise every amenity right down to the telephone and hangers in the closet, but don't mention the toilet and shower… because in provincial Europe they're often in the hallway.
#7 – If they claim multilingual staff, but don't tell you what languages they speak. – red flag
#6 – If they charge your credit card before you arrive. – red flag
#5 – If they only accept cash, or money order. – big red flag
#4 – If they are proud to list their proximity to the "Museum of Eroticism," "Night Life," and "Cabaret." – red flag
#3 – Watch out for "Newly renovated rooms" thinly masking that the room next door is still a construction site, and the paint in your room is still wet. – red flag
#2 – If the agency fees cost more than the price of the room. – red flag
#1 – If they claim close proximity to every museum and monument in the city! -red flag
While you have the manager on the phone don't forget to inquire about the state of their amenities, are the elevator and pool open and functioning? And, in the end, if you get there and you find out your room is next to the ice machine, you can always ask to move.