That's right you heard it here first. Whether you holistay or staycation in your neck of the woods, a "Destination Staycation" will be your next family memory maker.
Sure, each month we put aside what we can for travel and if we can we plan two holidays away from home in a year. But the nearly-year-round school schedule here it is simply inconcevable to plan four 16 day all-inclusive packages. As they say, necessity is the mother of invention and this time around we genuinely didn't see it coming.
As the school vacation on the calendar was fast approaching our dinner discussions weighed out plenty of traditional ideas : visiting cousins in Thailand, revisiting one of our favorite spots in Europe, a local hotel with a pool, or day trips to Disney only forty-five minutes away, and even the typical staycation high-energy sports activities like ponies, swimming, skating, or all three! But evening after evening, discussion after discussion our best ideas were ruled out one by one. The timing wasn't right for my sister in Thailand. High-energy sounds like more work than work itself. And frankly a week at a hotel is exactly the kind of sabbath rest we were longing for, but the prices, yeesh, not every school break, it's just not possible. So that left us with today, the first day of vacation, and no firm plans.
And the Destination Staycation is born.
My little cupcake woke up this morning, fixed herself breakfast before I got downstairs, as she does most mornings, and when I joined her with my coffee she presented me with her first proposition.
Cupcake presented her suggestion with the steadfast confidence of an almost-five-year-old who simply knows nothing else. "After breakfast I am going to put on a mermaid costume and do a science experiment." She had in front of her a stack of Usborne science experiment cards, "This is the one I want to do first." She boasted holding up the card entitled "Butterfly feeder." I, uninterested in anything that required making a mess and cleaning it up again, shrugged and sighed, "Fine, you do it then."
My daughter is an arts and crafts factory. She fabricates hundreds of creations every week. My plan is always to mail those on to friends, family, and pen pals around the world, but the postage investment means we content ourselves to the four major seasonal holidays and the fifty empty toilet paper rolls in her craft cupboard will go to sculpting binoculars, crowns, crazy shoes, and just about anything and the 3D nature of her creativity means they'll never leave the house. So, sure, she wants to get out the glue and scissors, she might as well make something useful and learn a bit about science at the same time.
My mermaid swam around on the floor for a half hour and then got right to work. Following the Usborne instructions with very little help from me.
Sorry my photos aren't extraordinary quality, and neither of us did our hair today, but that's exactly the kind of vacation we need right now. One where you don't spend your time racing from one tourist attraction to another or doing laundry for that matter.
She completed the construction and hung it expectantly in the back yard, right outside the window in full view of our dinning table. It may be a bit early for butterflies, but the feeder is ready to welcome them whenever they hatch. The next thing that happened was magical. We were already outside, and we started spontaneously weeding. And while I pruned the hibiscus, she dug a hole for her plant. "Which plant?" I asked, "The daffodil you brought home from school?" Hers is like a giant mutant daffodil, easily four times the hight of any other kids'. "No," she answers, "The one I'll get at the garden store." Right. Child-like faith. I did mention that possibility, on a recent 50°F day (that's 10°C). But, since then, I had retracted my statement because the two weeks of vacation the average high will be 30°F (-1°C). Not exactly ideal planting weather. But here we were none-the-less, weeding and gardening in the sun and she was in vacation mode, not a care in the world.
While I heated lunch, she made her Daddy breakfast in bed since he was sick with a cough. She played doctor taking care of him : providing some nuts, dates and a grapefruit, all entirely her idea. Then she doctored him with her fisherprice doctor kit and declared her had the chicken pox and rest is best.
Finally, we all sat down to lunch from the rotisserie. We're doing take-out and dine-in for lunches this vacation. It's our way of truly resting. Even reheating take-out required dirtying a baking dish, frozen fries another baking dish, and frozen greenbeans a third dish this time on the stove-top. Then you have to clean the kitchen and do the dishes, thankfully we have a dishwasher. Lunch was delicious, we sat around a properly dressed dinner table and jabbed each other about how we were still using cloth placemats and napkins even though we had made a pact not to do laundry, so we should be careful not to get them dirty or they'll be dirty all week, lol.
Precisely on time I took my little cupcake up to her room for quiet time while her Daddy took another nap. Since she wasn't feeling the need for a nap, I read to her for an hour. She had almost settled on a pop-up pictoral dictionary of sea life when she decided at the last minute that we really preferred chapter books, which led to reading The Magic School Bus, followed by a Children's Bible both hand-me downs from my best friend in town. She would have gone longer, but I was dying to get out into the sunshine again.
We hadn't even gotten down the stairs and another epiphany hit like lightning. Cupcake was moving furniture, clearing the center of the room, and she needed my help again. This time she needed me to slide the coffee table out of the center of the room. It's an art piece that is actually a chest of drawers full of electronics, musical instruments, and the most jam-packed drawer is endearing referred to as the "science journal" drawer after last year's obsession with Sid the Science Kid. So, I move the table, and she's casting vision. And if you've seen, "The Devil Wears Prada," you haven't seen anything. "We're going to have a beach and the sand here and the water there and this is where the blanket goes."
At one point she had the door to the room blocked by the armchair, so i moved it back to it's spot. Shortly after that she starts crying, and I just gazed at her and probed, "What is going on in your heart? Why is this making you cry?" She answers, "Because I want to sit here on a pile pillows," pointing to the spot that the chair is now occupying, "and look over there, and see the beach and the sand and the ocean," pointing to the blankets she had already plastered the entire floor with. I explained the door thing (again) and suggested that we move a small bench instead, thus freeing up a corner against the wall so that she can lean her pillows against the wall in a cozy spot and admire her world.
The moment vacation becomes more work than regular life then it's not a vacation.
With that settled, I went out to the yard to finish the pruning and weeding. She was right on my heels. This time her interest was creepy crawly creatures. She killed a few spiders and sprayed a dozen red beetles with an organic mixture that we concoct ourselves. But mostly she wants to collect anything slimy. Our region has an abundance of slugs and snails. Neither of which are great for flower gardens, so she's allowed to catch and keep as many as she wants for pets. Today she found two pet earthworms. We like earthworms, they aerate and renew the soil. She made them a home, "With leaves to eat, flowers to suck, and water to drink." If eating and drinking weren't already anthropomorphisms, the thought of worms sucking was a striking reminder of her beautiful innocence.
She dug out a blanket from the living room and laid it out in yard and took of her shoes and read a book in the sunshine. She had no sooner taken off her shoes than she started removing other layers. She wanted to put on a swim suit, I said no. You will need a bath, though, now that you've been playing in the garden without the nice thick layers that protect you from getting dirty, not to mention your hair has gotten caught in the branches. "Okay, I can get out my wading pool and fill it up with water and take a bath in there." She didn't want the fun to end. I don't blame her, but no. It is not warm enough. Some day we can do that in the summer. This is winter vacation, ski vacation.
As always it was difficult to persuade her to get a bath and even more difficult to persuade her to get out. This time I had leverage: an indoor picnic in her beach. "Picnic on my beach?" Her eyes lit up! Dinners these two weeks will be light and simple : salads, a fresh veggie tray and popcorn. And I told my hubby, this is the occasion to taste-test some of those things that we never have time to sample when she gets out of school an hour and half before bedtime. Tonight we had steamed artichokes. You peel them one petal at a time dipping the petal in fresh french mayonnaise and eating the soft flesh off of each individual leaf. Who has time for that? It's like cracking crab legs, it's a leisurely meal, you can't rush it. I also had hoped that crab legs would make it on the menu one night, but when hubby went to the grocery store he said they were $88 a lb. (71€ for 400g). We may be saving money not renting a hotel, but can you rationalize spending that kind of money on one meal, at home, picnicing on your living room floor? Who knows, I may just win him over yet.
You can pay to send kids to municipal day camps. I looked at the schedule. Morning: read a princess story. Afternoon: princess craft project. I was so bored with their proposals. My husband and I just looked at each other and knew. This was not our kind of vacation. In fact, this is exactly like our regular life. This is exactly what my little Cupcake does everyday: reads a story, wears a princess dress, and makes a craft. What about that is going to be vacation for her?
As a kid, vacation for me meant going camping. Tent camping. Rain or shine. Riding bikes around the campground, catching crawfish, building dams in the creek, and when all else fails spraying furniture polish on the metal sliding board to make it go faster. We didn't have to have a schedule of activities. Tent camping was simple. Outdoors. Easy meals you can make over a fire. Simple life. Simply being together. And, as I remember it, we ended each day huddled around the fire enjoying being a family. So how do I create that spirit in the winter?
Would you believe I invoked a verbal contract? A few days ago we were still 'planning' vacation. And then, on our Valentine's date out, huddling outside with winter coats and wool mittens on, I turned to my husband and resigned myself to a staycation, but with strings attached. I held his hands and looked him in the eye and asked for a solemn oath, "If we stay here I have two big BIG expectations and I want to make that very clear to make sure they're not unrealistic expectations. One, we are both ALL-IN. I'm not going to agree to stay home for vacation if the burden falls souly on one person. Neither of us are to do work, or make plans that don't involve the family. We are in this together. Two, this vacation is to relax. Sabbath rules apply. No cooking, no cleaning, no laundry and no busy schedules. This vacation is to relax, refresh, ressource."
So today, there we were, having dinner on the floor, and we had nearly finished the entire day of spontaneous island themed destination experiences by Cupcake's own initiative when something in the documentary on Hawaii must have triggered her memory. She dashed upstairs so quickly I had no idea where she had gone and when I inquired with my hubby he confirmed that she went to go get the "Hawaii dresses". The staging was now complete. After a day of mermaids, butterflies, indoor beaches, laying out in the sun, and hibiscus pruning. Now we were huddled together as a family, eating pineapple, watching a documentary about Hawaii, and to top it off we would now be dressed in a hula skirt.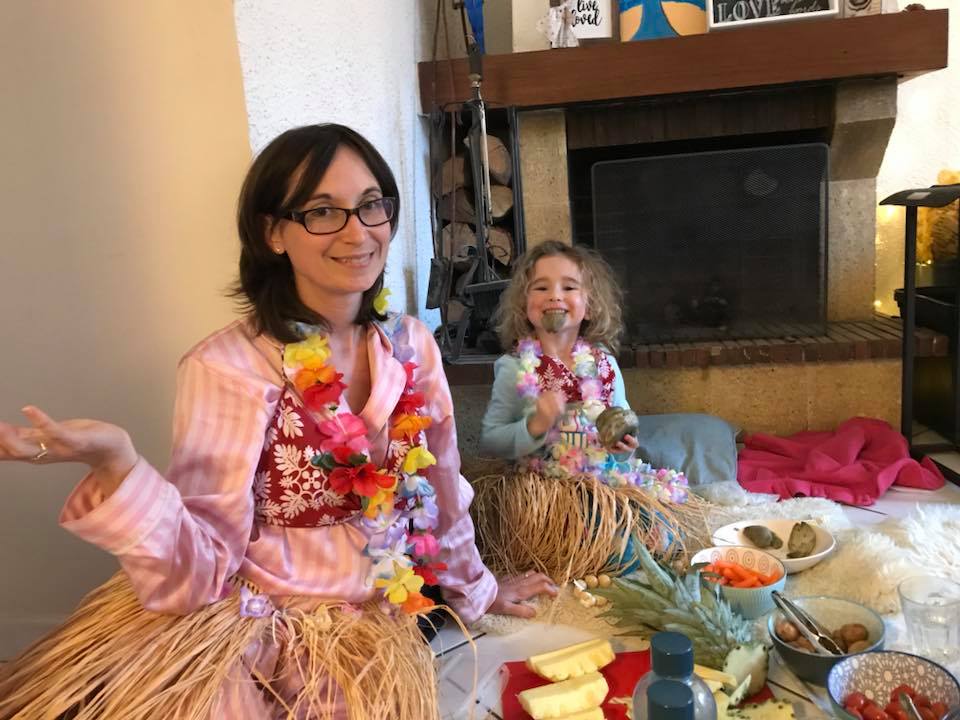 And I swear I did no micro-managing, no planning what-so-ever in fact. I just followed her lead and this is how an almost-five-year-old sees the world. Everyday her imagination takes her on infinite adventures and staying home means I can enter that world. Someone out there is going to see this post and apply countless hours of planning and prepping food and props. Do it, if it means you spend more time together as a family, bond and make memories, then do it. If you're home schooling and you want to plan five full days of immersion on five continents of the world and count it as school then do that. But the moment vacation becomes more work than regular life then it's not a vacation. I may have put pineapple on the shopping list, but it's not what you're thinking. It's cold season. Fresh pineapple is the world's best cough suppressant. Use your imagination and whatever you happen to have on hand to bring your imagination to life.
Use your imagination and whatever you happen to have on hand to bring your imagination to life.