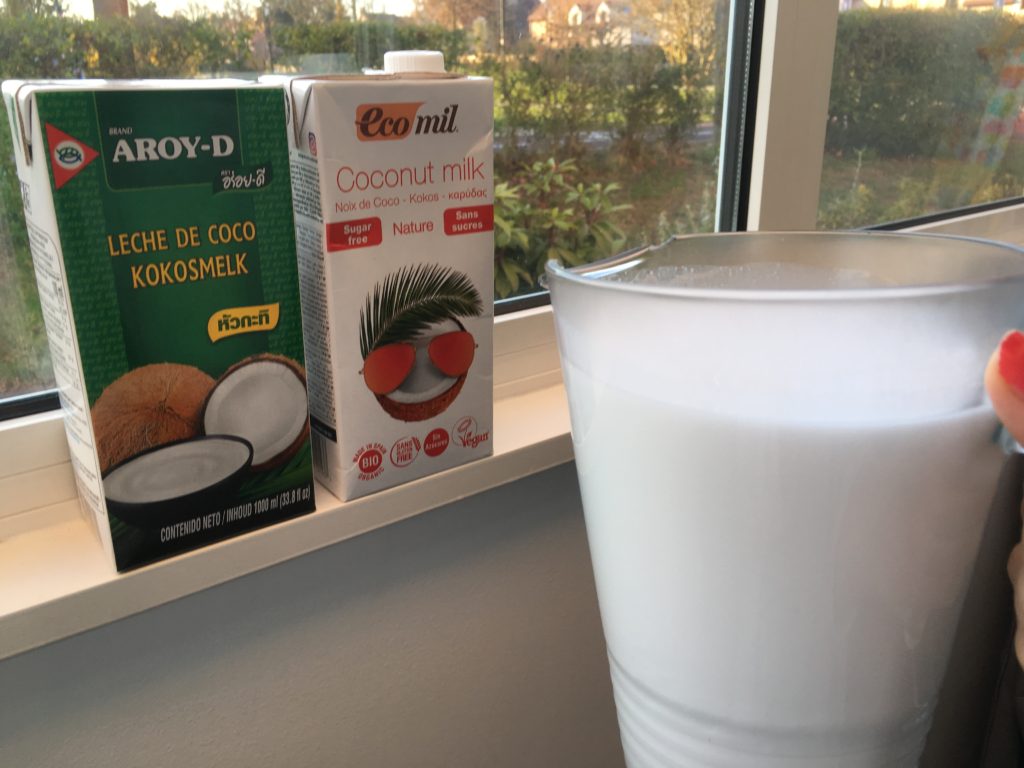 The other day I sent my hubby to the store with an inadvertently ambiguous item on the shopping list, 'coconut milk.' He came back with both coconut milk beverage from the refrigerated drinks section and coconut milk baking ingredient from the international foods section. And this got me thinking. What's the difference between coconut milk the beverage and coconut milk the baking ingredient?
So I googled this and found a general consensus that they are both the same part of the plant, processed the same way, and that one is more concentrated and the beverage is watered down.
One blogger claimed that her beverage was 45 calories per 100 g while her baking ingredient was 450 calories per 100 g, and that she could make beverage by diluting the baking ingredient. My husband's quick mind was already calculating that if that were the case we could make coconut milk beverage for cheaper than dairy milk by diluting our box of coconut milk the baking ingredient.
I flipped the boxes over to examine the calorie content. My beverage said 40 calories per 100 g and my baking ingredient said 120 calories per 100 g. So with some quick math I diluted the one to the same ratio as the other using filtered tap water and I did my own taste test. They tasted exactly the same straight from a cup.
In fact. When I froth my homemade diluted coconut milk beverage for my morning coffee I can taste a stronger coconut flavor notes coming through than the store bought coconut milk beverage, so I could probably stretch it even further.
My mom was thrilled to hear this as I suspect a lot of you will be, because the beverage is so expensive compared to the baking ingredient. I would just say rather than following one specific recipe online, compare the calorie content in the box you have accessible and water it down accordingly. Apparently strength of concentration can vary widely between brands.
The store bought beverage has additives that keep the coconut milk from separating. My natural work-around is rather than conserve the finished product in a pitcher as shown, I will pour it in a large mouth glass milk bottle with a screw-top lid and shake before serving. Voilà. Problem solved. Fewer additives ingested 😉
Every moment is a science moment, right? So with a few friends and readers asking to hear the results of my experiment, I decided to make this an official post. 4O calories per 100 g was the magic ratio. I like to blog these things for my own future reference. I am definitely doing this again, and often.